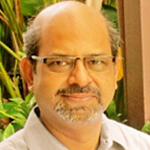 Capt. Subramanian Somasundaram

Capt.S.Somasundaram ,is a Master Mariner with more than four decades of experience in the Maritime industry. He was at sea for 22 years and thereafter in the year 2000, switched over to Academia.
Progressively, he served as a Senior Programme Officer in the National Institute of Port Management, Designated Person Ashore and QHSE Manager for Deme, Dean of Post-Sea courses and Ship Simulation courses in AMET University, Vice Principal of Massa Maritime Academy, Chennai.
His passion for teaching originates from the belief that the best learning is in teaching and Joy of life is in learning.